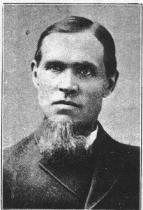 The Day of the Small Beginning
By J. P. Lindell
I have been asked to write a few lines about my first visits in Grand Rapids area. I am happy to do so and also mention my visits to (western*) Michigan. I love to think back to that time.
It was early in 1875, that I, for the first time, visited western Michigan. As far as I know, this area had been visited only by the brethren C. J. Magnuson, N. Zakrison in Lake Station, Indiana and P. Wedin from Princeton, Illinois. The places that were then visited were: Grand Rapids, Sparta, Muskegon, Whitehall, Hobart, Cadillac and Abronia. Later several other places were added afterwards.
When I visited Grand Rapids the first time I had quite a time to find my way around. My letter announcing my arrival had never been received. I had address to John Rose, 60 Michigan Street, but even the police on the west side could not show me where Michigan Street was. Finally, I found the address and we gathered around God's Word, all eight (8) of us plus a few small children. And we felt blessed with the presence of the Holy Spirit. Several years went by without increase in the attendance, but the gladness over God's grace was hearty and warm.
Because the congregations in Lockport and Joliet, whose pastor I was, were too weak to support a pastor 12 months per year, I had four months every year to travel around on my own to spread the Gospel, and that time I spent mostly in western Michigan. Our meetings were always poorly attended, sometimes only by the family whose guest I was. The attendance was also poor because certain people considered us "lasare" ( = readers, Bible readers without formal clerical training, thus "heresy") and advised people to stay away. Therefore, I had often seen believers shedding tears because it seemed so fruitless to invite people to the meetings.
July 1st, 1881, I resigned as pastor of Lockport and Joliet churches and received and accepted a call as traveling minister for western Michigan. In that time the believers in that area were so few and so poor, that they could not afford to pay a $ 200 yearly salary for the traveling minister. This even considering that their offerings were actually larger than now compared with their assets. But the Mission-Synod promised to help out with $300 additional yearly contributions. After accepting the call I preached daily on this field and distributed many Bibles, New Testaments, song books and other Christian literature. There were very few Christian books available at that time. In 50 weeks I did not see my family more than three times and then only 3 or 4 days each time. My family then lived in Lockport, Illinois.
That first winter I succumbed to sickness, that I still suffer from. Sometimes I found myself as if I was a very desirable feast dinner for bedbugs (wag- gloss) whose territory I had encroached upon. Other times rats had a wonderful time criss-crossing and racing over my body, when I tried to sleep where I had been shown sleeping quarters. Just the same I count that time as one of my happiest working times and the field as the most appreciative, because the crowds of listeners increased and seemed so interested and receptive for God's word that it richly outweighed all my efforts and my inconveniences. With perhaps a few, hardly nameworthy exceptions I was always welcome and enjoyed the best the house could produce as well as a hearty welcome. With this all my expectations were perfectly fulfilled.
Before the close of the year preparations for building their own mission houses (churches) had begun in 6 places.
<- JUBILEE HOME | The Church Life ->