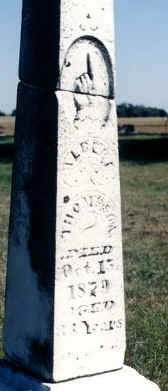 ALBERT L. THOMPSON
Albert L. Thompson was my grandfather Frank Thompson's oldest brother. Their father, Benjamin C. Thompson was a first cousin of the somewhat infamous Charles Blancher Thompson who has 3 our 4 descendants among our Tommies.
Albert L. Thompson served throughout the Civil War [1861-1865] with the Wisconsin 1st, 21st and 3rd Infantry. He was discharged 2 weeks to the day after his 20th birthday. He migrated with parents and siblings to Martin County, Minnesota where he married, taught school and farmed. Consumption contracted during Sherman's March to the Sea took his life in his 33rd year, Oct. 15, 1879. His life span was 1845-1879.
He was buried at Center Creek Cemetery, Martin County, MN and I'm attaching a picture of his five-foot white sandstone obelisk stone. Over time all Albert's relatives moved away, and the cemetery sexton there tells me within his memory [20 years] no one has visited Albert's resting place to fly a flag, lay a wreath or place even a single flower in memory. I am applying to the U.S. Government for a Civil War marker for Albert. At the least, a flag-holder in which the Veteran's Affairs Office at Fairmont, Martin County, MN will place a flag on the 4th of July which was also Albert's birth date. After all this time his name is being mentioned and bandied about in a way that's intended to honor him.
[As mentioned, Albert's youngest brother, Frank, was my grandfather and it was only through Frank, out of 6 brothers, that the name carried down. Frank moved his family to Colorado, then Washington State, before heading up to the Peace River Country of northwest Alberta, Canada with his 3 sons where they all homesteaded in 1913. Half of the 30 name-carrying progeny of grandfather Frank still live in that part of Canada and judging from the map at our Tommie site which you have painstakingly created...are among the most removed from the site of our New England origins.]
Now, here is Albert L. Thompson's stone, stark and lonely on the flatland of southern Minnesota. (Click photo for full image).