MYSTERY PHOTOGRAPH HAD ME WONDERING
The Man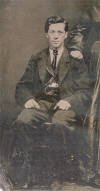 He is wearing a sack coat. Characteristics include: loose fitting; boxy; short and no tails; wide sleeves; no waist line; straight front; short lapels; no cuffs
Sack coats, forerunner of today's business suit, were often made of wool or tweed. The coat was introduced in the 1830's and popularized by Prince Albert. First worn by the very wealthy as country and casual dress, sack coats started to be fashionable for the common populace in America in the 1840s & 1850s as business wear. Wealthy men would wear a tail coat (similar to today's tuxedo) for formal occasions. The more common population would have worn a sack coat for special occasions well after the 1860s. In this photograph, the sack coat is worn in a formal setting signifying the wearer was in the middle class of the time period.
Vest & Trousers:
It was common in the period between 1865 and 1890 for men to have worn a vest and trousers made of the same fabric. A variation also popular was a coat and vest made of the same fabric. Men of sporting tastes preferred vests in checks, stripes or plaids. Unless the man was quite wealthy, these patterns wouldn't have been worn before 1870.
Pocket Watch
Close inspection of this photo reveals a pocket watch chain across the vest with one end in a button hole, the other end likely in an unseen pocket. This look was just starting in the 1870s.
Tie
The man is wearing a four-in-hand tie, which is a neck tie, tied in a slipknot with long ends, overlapping vertically in front. The four-in-hand tie started in the 1860s, but didn't become popular until the 1870s. Before the 1880s, the tie was somewhat narrow, like the one pictured. In the 1880s, ties became thicker and wider. Prior to 1870, most ties were bow ties.
The man is clean shaven which was becoming more & more the fashion especially late 1880s and 90s. 1870s was characterized by fewer beards, but mustaches were popular. The 1860s saw mustaches, beards and sideburns all popular. But choice of facial hair was still a very individual decision.
Introduction The Man The Woman Conclusion

Bryant Genealogy Page
Top
Carrie Eugelia HOLBROOK Ancestry